Break The Myth. Celebrate Independent Film and screen ONE NIGHT MORE for your own audience.
ONE NIGHT MORE will be giving people who wish to screen the film for their communities FREE access to the film after the film has premiered and completed it's theatrical run. Find out more about the Screening Packages below.
---
PHYSICAL SCREENING of FILM + Q&A with CAST & CREW
Book a SCREENING of ONE NIGHT MORE today with [select] Cast & Crew in attendance [dependent on availability]. Q&As may be over Skype.

We're happy to offer flexibility in the way of providing on-site technical support from our team during the presentation and/or technical advice prior and assist in booking of the screening venue.

Coming Soon
---
HIGH DEFINITION WEBCAST PACKAGE

The film will be transmitted live via

Rabb.it using a secure upload of ONE NIGHT MORE. [Currently Testing]. Rabb.it is an innovative collaborative platform where viewers can watch a video/film, controlled by a 'Host', in a virtual room that enables simultaneous live comments for all.

Suitable for Large Audiences, Small Virtual Audiences or Simulcast Package alongside the Secure Online Screener Package to enable your event to have a Virtual Community watching alongside Live.



Viewers can leave, join or re-join the virtual 'room' during the webcast, depending on the room's visibility settings

Coming Soon
---
SECURE ONLINE SCREENER PACKAGE

The film will be sent as a Secure Online Screener via industry standard application

Indee.TV

where you will be given a unique one-time access link where you can play ONE NIGHT MORE in a regular browser such as Chrome/Firefox.

The secure online screener is time and click-sensitive and will

not

be playable once the tab/window has been closed [a number of times] - for further guidance on this please specify "

Technical Assistance Required

" in the subject header when you click the button to the right.

Suitable for Large Audiences, Smaller Audiences or Classes.

Coming Soon
Powered by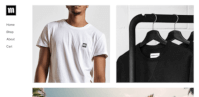 Create your own unique website with customizable templates.